Hourly Aurora Forecast
Using real-time solar wind data from Nasa's ACE spacecraft, matched with some computer modelling, we are able to display with reasonable accuracy, how the aurora will behave up to one hour in advance.
Image should be used as a guide only. Aurora may be seen slightly higher or lower than the image shows on any given night.
Right now, the aurora is predicted to be:
Kp 0.33
In 13 hour and
55

minutes, the aurora is predicted to be

kp 0.33


In 13 hour and

39

minutes, the aurora is predicted to be

kp 0.33


In 13 hour and

24

minutes, the aurora is predicted to be

kp 0.00



System status:
All Good.
---
3 Day Aurora Forecast
Here are the predicted Kp numbers for the next 3 days. They can change at any time due to solar events, so you should check them at least once a day.
Time now in UTC (Universal Time) is:
06:09 Aug 17th
            Aug 17     Aug 18     Aug 19
 
00-03UT        3          2          1     
 
03-06UT        3          2          2     
 
06-09UT        3          2          1     
 
09-12UT        2          1          1     
 
12-15UT        2          1          1     
 
15-18UT        1          1          1     
 
18-21UT        2          1          2     
 
21-00UT        2          1          2     
 

Why do we use UTC?
UTC (Universal Time Co-ordinated) is used in science, weather, aviation, military and many other fields. It eliminates confusion with multiple time zones and daylight saving. Once you find out the time difference between UTC and your own time zone, it is easy to read universal times. Click here to see what UTC is right now in North American time zones. For more information on UTC click here
---
Solar Wind Gauges
These gauges are our own system, they are updated every 60 seconds directly from Nasa's ACE spacecraft data. The data you see here is what the ACE spacecraft monitored only moments ago. It is the very latest live solar wind data available. These 3 components are the most important components of the solar wind (that we as aurora watchers are interested in). You can view all the components of the solar wind on our other solar wind tool here.
Gauges are updated every minute live (without the need for page refresh).
How to interpret the gauge activity

The ACE spacecraft has been superseded by DSCOVR (data below).
ACE is still operational however, so now we have two sources of solar wind data.
Data from DSCOVR: Deep Space Climate Observatory – courtesy of SWPC.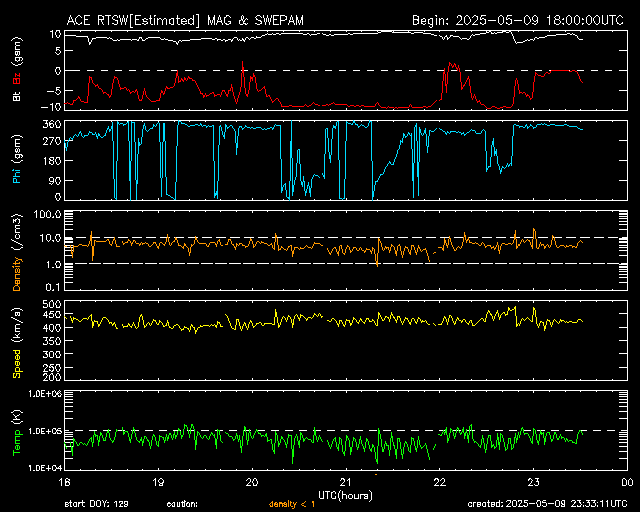 ACE Real Time Solar Wind MAG & SWEPAM data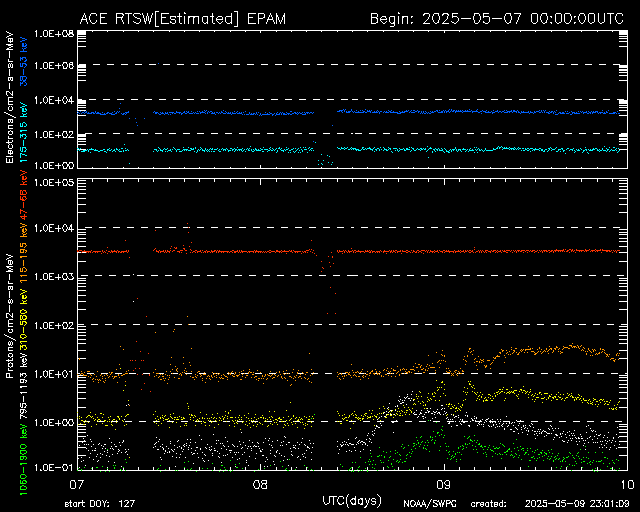 ACE Real Time Solar Wind EPAM (Low Energy Electrons & Protons) data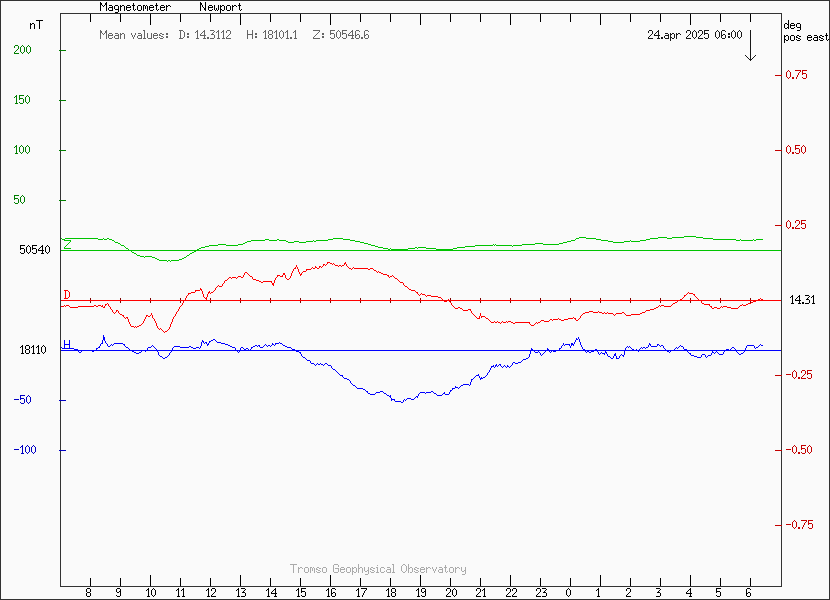 Magnetometer located in Newport, Washington 48°N
---
What Kp strength do you need to view aurora where you are?

To see the Northern Lights in the lower parts of Southern Canada you generally need Kp3+ levels. For the Northern USA states (excluding Alaska), you would usually need a geomagnetic storm for Northern Lights to be visible. Anything above (and including) Kp5 level is classed as a geomagnetic storm, so this is usually the golden number we all wish to see. Even if you are quite far north and have auroras at much lower kp numbers, a geomagnetic storm will turn the usual good aurora shows into amazing aurora shows.